Wow, did we ever have a wonderful turnout this year! Thank you guys all so much for all of your nominations and seconds and fun comments!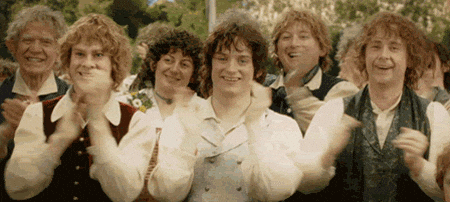 But enough with the gushing, let's get to what everyone really cares about…who are the nominees?
Drum roll please!
For the Strangest Character category, the nominees are…
The scarecrow from Howl's Moving Castle! I know, I'm as shocked as you are. XD The scarecrow is an interesting fellow, doesn't talk much. At all, actually. He gets around by bopping on his wooden pole, much to everyone's annoyance. But he's surprisingly fast. One might call him a turnip-head, but there is more to him than first meets the eye…
The Cheshire Cat from Alice's Adventures in Wonderland! With his alarming grin and disarming habit of disappearing into seemingly nowhere, this cat is definitely interesting. Though he does attempt to 'help' Alice on her journey through Wonderland, it seems he only causes more problems than he does fix them. Has a touch of madness to him. Though, as the saying goes, "we're all mad here."
Gurgi from the Prydain Chronicles! This leafy little creature talks solely in the third-person and seems obsessed with "crunchings and munchings." He's perhaps a bit self-absorbed, frequently feeling sorry for himself, and going on about his "poor, tender head." Despite this, he is extremely loyal to Taran and sticks by his side throughout his friend's journey…
Calcifer from Howl's Moving Castle! An oddly charming fire demon with a sharp tongue, Calcifer is not your average fiery ball. Not that there could really be such a thing as an 'average' fiery demon ball, but you know. Calcifer, though quick-witted, is not always the most trustworthy demon. He keeps many secrets, some by choice, others by oath. On top of that, he can be a bit whiny, perhaps even nasty sometimes. But deep down, he has a good heart…
Miracle Max from The Princess Bride! He may not be the nicest at first, refusing to help Westley in a time of dire need, but with the prodding of his wife Valerie, Miracle Max finally comes around and agrees to help. Only because of a longstanding grudge though. Not necessarily from the goodness of his heart, but you take what you can get. And it should be said, he did give Westley a mere 40 minutes ("accidentally") instead of the promised hour, which really makes you think…
Now that you have the ballot, be sure to vote! Follow this link and vote for who you think should win in each category. Follow these links to see the descriptions of all the other nominees this year!
May your favorite character win! I will now leave you with Gandalf:
Thank you again to all who participated in the nominations! It was a wonderful time! Don't forget to vote, and be sure to stick around and see who wins this years' 2020 Silmaril Awards!