Hey guys!
So, today, I thought I would share with you an interesting list I came up with. Now, I've read so many books. So many books. And most of them are fantabulous!
But some…Well…
Some are just plain weird.
And so, here are 11 of the strangest (and sometimes wonderful) books I've ever read.
Starting off with…
Chickenhare by Chris Grine – 11#
Half chicken, half rabbit, 100% hero!
Now, I've seen some weird things. But this is quite possibly the oddest book I've ever read. It's about Chickenhare (a rabbit with chicken feet) and his friend Abe (who's a box turtle with a beard). If that doesn't scream odd than I don't know what does.
Hyperactive by Scott Christian Sava – 10#
Twelve-year-old Joey Caram's metabolism has gone haywire!
I thought this book was actually really funny. But very odd. It's about a boy named Joey who's metabolism has suddenly gone crazy, resulting in super speed. It was a cute, elementary level read and my younger brother thought it was hilarious. J
The Chronicles of Harris Burdick by Various Authors – 9#
An inspired collection of short stories by an all-star cast of best-selling storytellers based on the thought-provoking illustrations in Chris Van Allsburg's The Mysteries of Harris Burdick.
This was a whimsical collection of short stories that several authors contributed to. Each one of the authors took one of the mysterious pictures of Harris Burdick and wrote a story based on it. Some…were more interesting than others. There were several that I despised, but there were also a few that I found wonderful. In short, it was a very intriguing, very unusual book.
Dragons of Darkness by Antonia Michaelis – 8#
In this thrilling modern-day fable, two boys from very different backgrounds are thrown together by magic, mayhem, and a common foe.
This was so excruciatingly odd, yet some parts were wonderful and enchanting. I have very mixed feelings about this one. On the one hand, I loved a few particular characters so much! Others…not so much. I thought the story was peculiar, sometimes in good ways, sometimes, not so good. There were a few parts that made me squeamish, though. It was definitely a memorable read, I'll say.
Alice in Wonderland by Lewis Carroll – 7#
"But I don't want to go among mad people," Alice remarked. "Oh, you can't help that," said the Cat: "we're all mad here. I'm mad. You're mad."
Okay, so I couldn't have a list of weird books and not include this one. It would basically go against all rules of strangeness (trust me, there're rules; I would know). I'm sure you all know how the story goes. I think of it less as a book and more of a collection of random anecdotes and quips. Randomness abounds…Weirder and weirder. 😛
Lumberjanes Vol. 1: Beware the Kitten Holy by Noelle Stevenson – 6#
FRIENDSHIP TO THE MAX!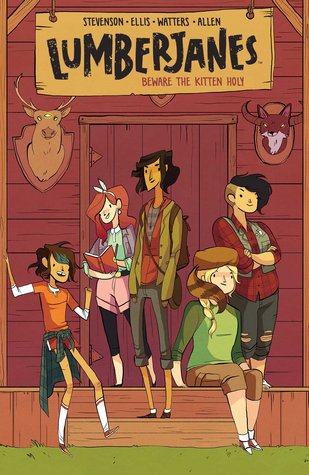 Okay, can I just…who calls their book that? And it only gets stranger… Needless to say, I thought it was a pretty hilarious book, and I may consider reading the next one, if I really feel the urge to finish the story. Which is doubtful…
Running Out of Time by Margaret Peterson Haddix – #5
Can Jessie get help before the children of Clifton, and Jessie herself, run out of time?
I won't lie; I loved this book as a kid. And I don't think I'll ever re-read it. I don't want it to lose the love I had for it before, no matter how strange it was, (and it was definitely one of the more unusual books I read as a kid…)
House of Robots James Patterson – #4
An extraordinary robot signs up for an ordinary fifth grade class… and elementary school will never be the same!
THIS BOOK WAS SO CUTE OKAY. It was so funny and adorable and just…GAH! But don't tell my brother I said that. 😉 I really liked the idea of a house full of robots that do all the jobs and all of the robots are hilarious. I recently checked out the second book and I love it so far. Just really love E. He's great. 😀
The Mysterious Benedict Society by Trenton Lee Stewart – #3
"Are you a gifted child looking for special opportunities?"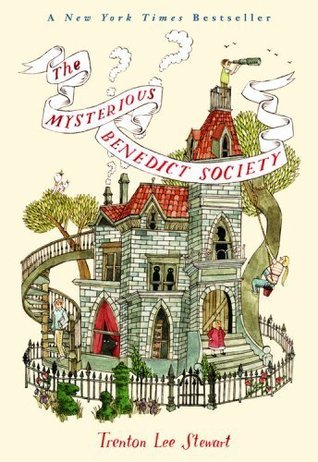 I LOVED this book! It was so different from any book I've read, and in a very good way! The characters were so interesting and the story was so peculiarly delightful and it wrapped up so nicely but there's still room for a sequel and I just LOVE IT. ❤
A Wonderlandiful World by Shannon Hale – #2
When a mysterious being from Wonderland begins to infect Ever After High with a strange magic, everything goes topsy-turvy. Lizzie Hearts, Cedar Wood, and Madeline Hatter, seem to be the only ones who haven't completely lost their heads. It's up to them to save their best friends forever after from a curse that threatens to give their school-and their lives-a very unhappy ending.
This is a third book, so I don't want to spoil you if you haven't read the book, but… MY GOODNESS WAS THIS BOOK EVER INSANE. TOPSY-TURVY IS AN UNDERSTATMENT.
The Candy Shop War by Brandon Mull – #1
What if there were a place where you could get magical candy?
Guys, I really just love this book. I can't say anything else. Well, I guess I can say this book was ABSOLUTE MADNESS. O_O But in an AWESOME way! And that it is one of my favorite books EVER. Such a twisty, turny, mad-cap adventure…Read it! 😀
~~~
There you have it, 11 of the weirdest books I've ever read. Now you know. 😛
I shall post again soon! ❤