So…sorry I skipped yesterday, things got a little hectic… but I have this tag for you!
Here we go!
The Little Mermaid—A character who is out of their element, a "fish out of water". 
I'm going to say Cress from the Lunar Chronicles by Marissa Meyer. I mean, she was locked up in a tower/satellite for most of her life! And now that she's out…well…she's a fish out of water. 😉
Cinderella—A character who goes through a major transformation.
I haven't finished this trilogy yet, but I'd say Alyss from The Looking Glass Wars trilogy by Frank Beddor. She's been through a lot…to say the least!
Snow White—A book with an eclectic cast of characters.
I am definitely going with The Neverending Story by Michael Ende. That cast of characters is literally the oddest bunch out there. But, of course, I still love them! 🙂
Sleeping Beauty—A book that put you to sleep. 
I don't know… oh, how about Nothing's Fair in Fifth Grade by Barthe DeClements? I hardly remember it, but I remember thinking it was really boring…
The Lion King—A character who had something traumatic happen to them in childhood.
Ella from Ella Enchanted by Gail Carson Levine, for sure. Having an obedience spell put on you at birth and then being ruled by it for life? I'd say that's pretty traumatic.
Beauty and The Beast—A beast of a book (a big book) that you were intimidated by, but found the story to be beautiful.
Sense and Sensibility I found absolutely delightful, once I looked past it's size. Even then, it took me over a month to read! But I enjoyed it even so. 🙂
Aladdin—A character who gets their wish granted, for better or for worse.
I'm going back to The Neverending Story because Bastian is a literally perfect example of that. He does a lot of wishing, and it doesn't always end up well…
Mulan—A character who pretends to be something or someone they are not.
Daisy from The Candymakers by Wendy Mass. Don't ask me why. I'll spoil you… 😉
Toy Story—A book with characters you wish would come to life.
THIS QUESTION IS TOO HARD. But if I had to choose…I would say the cast of The Lunar Chronicles. That would be sweet.
Disney Descendants—Your favorite villain or morally ambiguous character.
WHY DO YOU MAKE THE QUESTIONS SO HARD!! >_< I actually wrote a whole blog post on villains that you can read here.
Hercules—A book that inspired you and made you a stronger human.
I say…Motorcycles, Sushi, and One Strange Book by Nancy Rue. That whole series has really inspired me to be stronger and the best I can be. ❤
Up—A book that you have no idea what the title and the cover was about, but you love it after reading it.
I honestly had no idea what to expect from the 3rd Princess Academy. I mean, what?!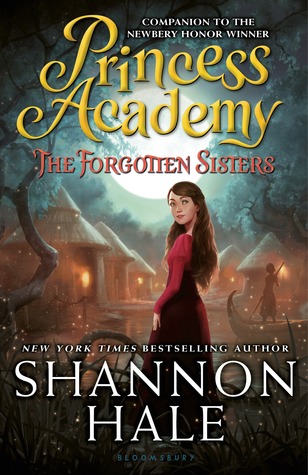 Totally different feel than the other books so what am I supposed to do here?! But I ended up loving it anyway. 🙂
Frozen—A pair of book siblings that you absolutely love.
Meryl and Addie from The Two Princesses of Bamarre by Gail Carson Levine. I think there relationship is so sweet and…sometimes sad… 😥 But it's still a really good book!
Well, that's the tag, hope you enjoyed, and I will see you tomorrow! 😉